The Academy of St. Clare of Assisi:
Stitches in Time
Shire of Abhainn Ciach Ghlais
Friday, March 11th through Sunday, March 13, 2016
Do you love to embroider? Does the idea of stitching with friends fill you with joy? Ever wish for an embroidery class that offers more than basics? If so, then clear your calendar because the Shire of Abhainn Ciach Ghlais is opening its doors to embroiderers and stitchers from all over.
The Academy of St. Clare of Assisi: Stitches in Time is an event for embroiderers, by embroiderers and about embroidery. It offers a keynote address about medieval embroidery, small specialized classes on single topics, long detailed classes on beloved styles, and a chance for AEthelmearc's embroiderers to form the community that we've been waiting for.
"Kit class" payments and registration is closed. Auditors are still welcome for the afternoon classes.

German Brick Stitch and Whitework classes may have Kits available on a first-come, first-served basis the day of the event.
Site
This Embroidery Extravaganza will be held at Boy Scout Camp Karoondinha, 225 Thomas Dam Road, Millmont PA 17845-9448 (GPS Coordinates: 40.85630, -77.2547) Site opens at 5 PM on Friday, March 11, and closes at 11 AM on Sunday, March 13.
NOTE: The site is a Boy Scout Camp located on the side of a mountain, and the roads and paths are gravel, not paved. This can make getting about difficult. Some walking will be required, as the two buildings we will be using are not near each other. If you have mobility concerns, please request a parking placard when you send in your reservation.
Cell phone service at the site can be spotty, depending on one's carrier.
Schedule & Activities
Friday:
5:00 PM Troll opens; check in at Edna Sheary Lodge
8:30 PM What's in Your Toolbox? A roundtable discussion about favorite tools and suppliers.
Saturday:
8:00 AM Troll re-opens; check in at the Dining Hall
8:30 - 9:30 Breakfast
All day Embroidery Display Area: Display your work, for feedback & inspiration.
Library
10:00 - 11:00 Keynote Address: History of Embroidery
11:00 - noon Morning Classes
noon - 1:00 Lunch
1:00 - 4:00 Afternoon Classes (Students must pre-register for "Kit" classes by 2/12/16.)
1:00 - 4:00 Stitching Solar, hosted by THL Jaqueline de Molieres and Maestra Filipia Caprioti.
4:00 - 4:30 Tea
4:30 - 6:00 Visit embroidery displays, check out the library, stitch and chat, relax ...
6:00 - 7:00 Supper
7:00 till ... Roundtable Topics **
Sunday:
8:30 - 10:30 Breakfast / Research and documentation can help you take your work to the next level. Two Laurels will share their know-how over breakfast.
11:00 Site Closes
** Possible Roundtable Topics:
Athena's Thimble (EK Embroiderers' Guild: What they do, how it works, etc.)
Show-n-Tell (Bring the most beautiful thing you've ever made, bring a project you want to make but haven't gotten the courage to start, ... )
Using the Embroidery Rubric to Judge/Improve Your Work.
Keynote address
Duchess Meirwen uerch Owein will speak on the history of embroidery from 10 to 11 AM
Classes
Saturday Morning:
Saturday Afternoon "Kit" Classes:
Each "Kit" class is 3 hours long and will be limited to a small number of students. Kits will contain specialty supplies and period materials needed to complete the class project. (Kit classes may require more equipment; if needed, you will be notified of additional items to bring after you have pre-registered.)
Class Descriptions
From Picture to Pattern by THL Jaqueline de Molieres
We will discuss how embroidery patterns were created in period, processes and tools. Then class participants will create an embroidery pattern from inspiration found in paintings, books and manuscripts. A variety of pictures will be provided to use from different time periods and sources.
People will leave class with a pattern made.
No fees, all materials provided.
Handsewn Applique: A Hands on Practical Approach by Mistress Antoinette de la Croix
Have you ever felt intimidated at the thought of hand applique? This class will focus on the tried and true technique employed by the instructor: the "Antoinette method" of designing stitch layout to suit the curves and turns of period motifs will leave you feeling confident. Students will learn how to design stitch layout and practice on a linen sampler in class.
Class limit: 15
Fee: $5.00 for kit which includes: handout, acetate sheet, dry erase marker, alcohol prep pads, linen sampler, stabilizer, embroidery floss, thread, needles, beeswax.
Teacher will accept a small number of auditors. However, table space is reserved for those who buy the kit due to the nature of the class.
Please bring hoops, scissors and thimbles.
The Oxburgh Hangings by Mistress Briony of Chatham
The Oxburgh Hangings, embroidered by two of the most exciting women in Elizabethan-era England, provide a rich and detailed glimpse into their lives and the culture of the day. But they also offer an enigmatic mystery regarding their creation. Whether you are interested in embroidery, Elizabethan culture, or doing historical detective work, this class has something for you!
Handout only, no class limit, and no fee!
Tools and Supplies for the Beginning Embroiderer by Lady Etain ingen Ruaidri
What you need to get that project started: hoops, needles, thread, and fabric. What kind, size, and color. And is it period?
No class limit and no fee. Bring a pen or pencil.
German Brick Stitch by Elizabet Marshall
In this class we will look at German Brick Stitch embroidery. This is counted stitch canvas work following a charted design. Materials (see below) will be enough to make a 3" to 4" bag with two designs. Designs provided will be adapted from ones provided by Master Richard Wymarc on his website at ( http://www.wymarc.com/asoot/german/stitch_article/stitchArticle.php ). One will be a simpler design (all stitches the same length) and one will require more careful counting (stitches of different length).
Small scissor fob kits will be available for $3 to non-registered students at the beginning of class.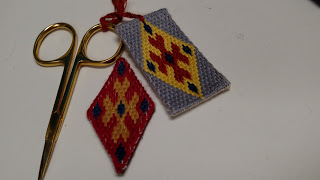 (scissors not included)
Students who pre-registered for this class will receive threads (silk or cotton colors and white linen), 24 count congress cloth ground fabric, mini stretcher bars, tacks, needles, and a handout with instructions, designs and references.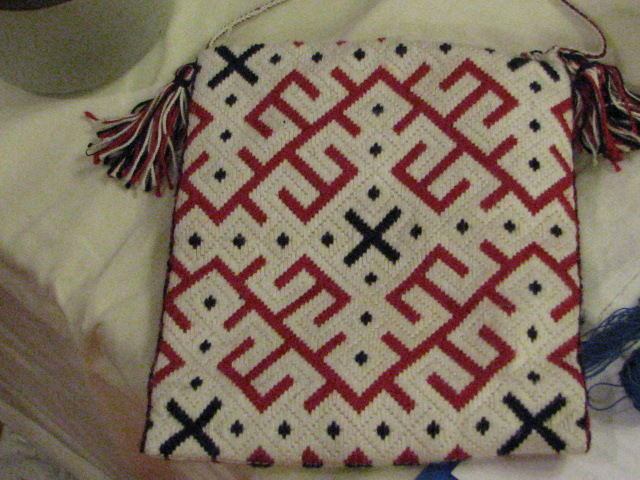 Although the bag you will create in this class will use a completely different embroidery design, the finishing will be similar to this one.
Students should bring embroidery scissors and magnification if they prefer to use it. Any other tools needed will be available for use in the class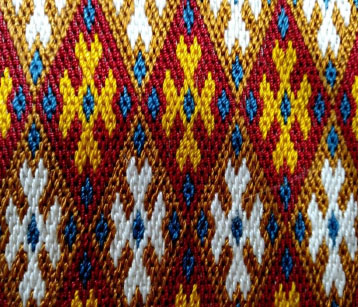 Class limit: 8 hands-on kit students.
Auditors: Welcome, either to listen or bringing materials of their own (contact teacher for info); however, the "kit students" will be given preference for table space and in-class assistance. Some additional handouts will be available, and either an email address or web address will be available for electronic copy of the handout.
Kit options: The sample pictured above was done with Trebizond silk which is both expensive and fussy. It is listed as an option, but not encouraged (says the person who just did that piece. Options are listed in order of "recommended." Note that colors will be similar but not exact for all options.
Option A: Rainbow threads Splendor stranded silk. A little less "glossy" than the filament Trebizond, but much easier to work with.

Kit price $32.00

Option B: Rainbow Threads Grandeur silk. This silk is approximately the size of Perle 5 cotton and similar in size to the Trebizond. It is a little less glossy, but easier to work with.

Kit price $44.00

Option C: DMC Perle 5 cotton. The least "period accurate" option, but has a good sheen and easy to work with.

Kit price $25.00

Option D: Trebizond silk. This is a filament silk, lightly twisted (though also pliable). *Possibly* the more "period accurate" option. However, it is Z plied and twists awkwardly and is fussier to work with. Also, more expensive. Recommended only for those with experience using fussy silk.

Note that the Trebizond also has a coverage issue. I found that the red was more tightly twisted, so there were coverage differences, see motif below. This can be dealt with, but it is part of the fussiness issue.

Kit price $52.00
Pleatwork Embroidered Apron by Fredeburg von Katzenellenbogen
Learn how to pattern, pleat, and embroider a pleatwork apron based on Renaissance German examples. Pleatwork embroidery (modernly known as smocking) was used to decorate gathered fabric for apron, shirts, chemises, and partlets. The apron will focus on using the honeycomb stitch, but other stitches will also be demonstrated and discussed.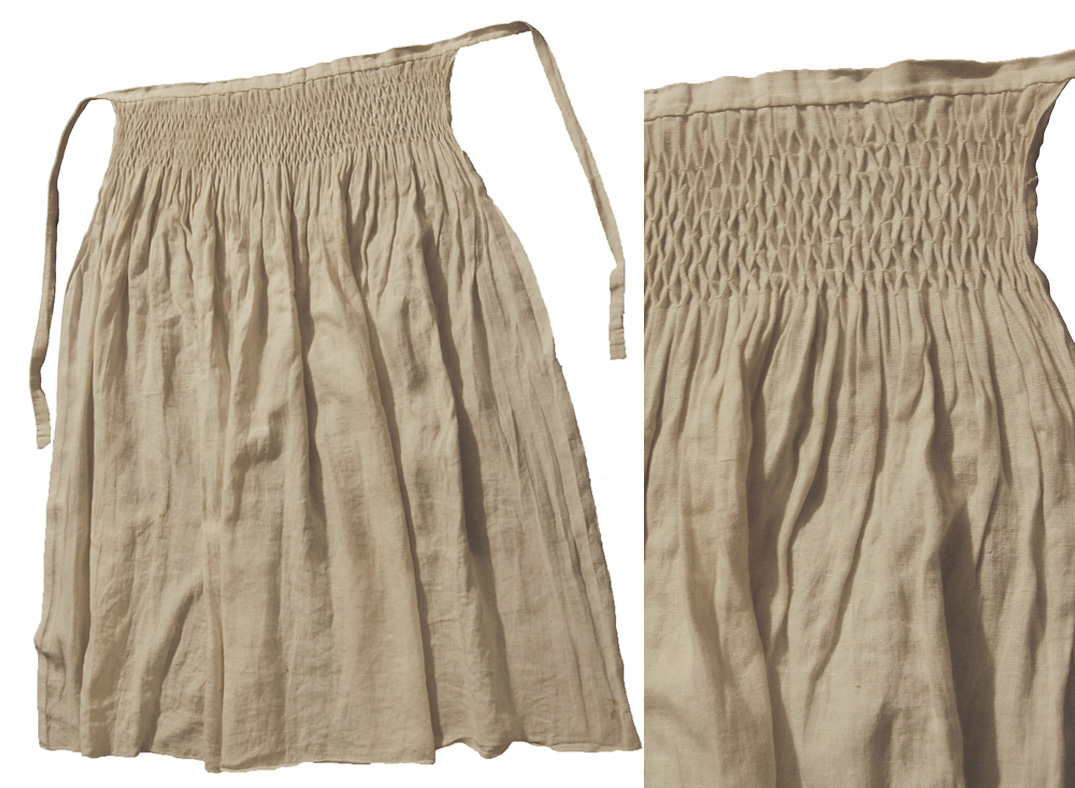 Class limit: 8
Auditor: Welcome, first hour of most interest to them.
Kit fee: $20
Kit contains white linen fabric, pleating guide, thread for pleating. sewing thread and needle, silk embroidery thread and needle, handout, included additional stitches and information on other applications for pleatwork embroidery.
Kit options: You may choose the color of embroidery for your apron. Mention your color choice when you pre-register for this class.Your options are:

Option A: White
Option B: Black
Option C: Red

Students should bring a pair of scissors.
Stitching an Embroidered Medieval Hood by Mistress Antoinette de la Croix and Hrefna fruþikona Þorgrímsdottir
Ever dream of having one of those flashy embroidered hoods you see in manuscripts or at events? This class will help your dream come true. Here, you will learn about embroidery on western European hoods in the 13th-15th centuries. Antoinette and Hrefna will examine written and pictorial sources, describe common motifs, and help you design embroidery for your own hood. You'll trim a hood blank to fit you, learn how to sew on slips, and discover time management techniques that'll help you finish this embroidery project. You'll also learn project management tips for large multi-person embroidery projects.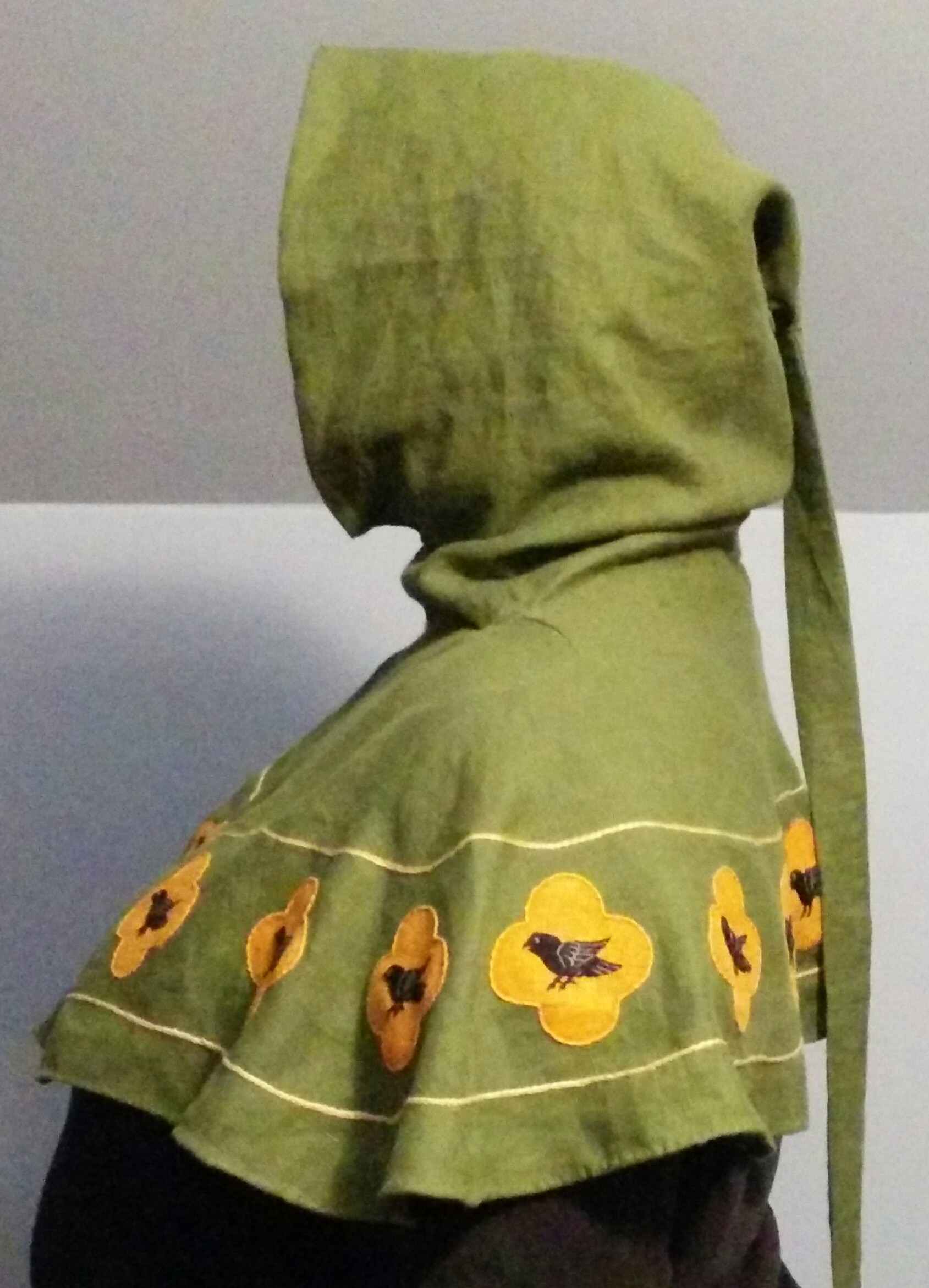 Class limit: 8 students
Auditors: Accepted only after the class is full. Auditors may bring their own materials (contact Hrefna for info). "Kit students" will receive preference for table space and assistance in class.
Kit fee: $20
Kit contains a linen hood blank, linen for slips, crewel wool, needles, paper for drawing your design, fabric to practice appliqueing a slip, and a handout.
Kit options: You may choose the colors for your hood and the slips that go on it. The teachers will provide wool threads that matches your choice. Mention your color choices when you pre-register for this class.

Your options for the hood and slips are:
Option A: Blue hood with white slips
Option B: Green hood with yellow slips
Option C: Red hood with blue slips
Option D: White hood with yellow, blue, red or green slips.

Students should bring:
A 5" or 6" embroidery hoop
Any lighting and extension cords they might need.
Pencil and paper to take notes
Chalk, quilter's pen, or fabric pencil
A small pair of scissors
16th Century White Work taught by Padrona Caterina Giaocchini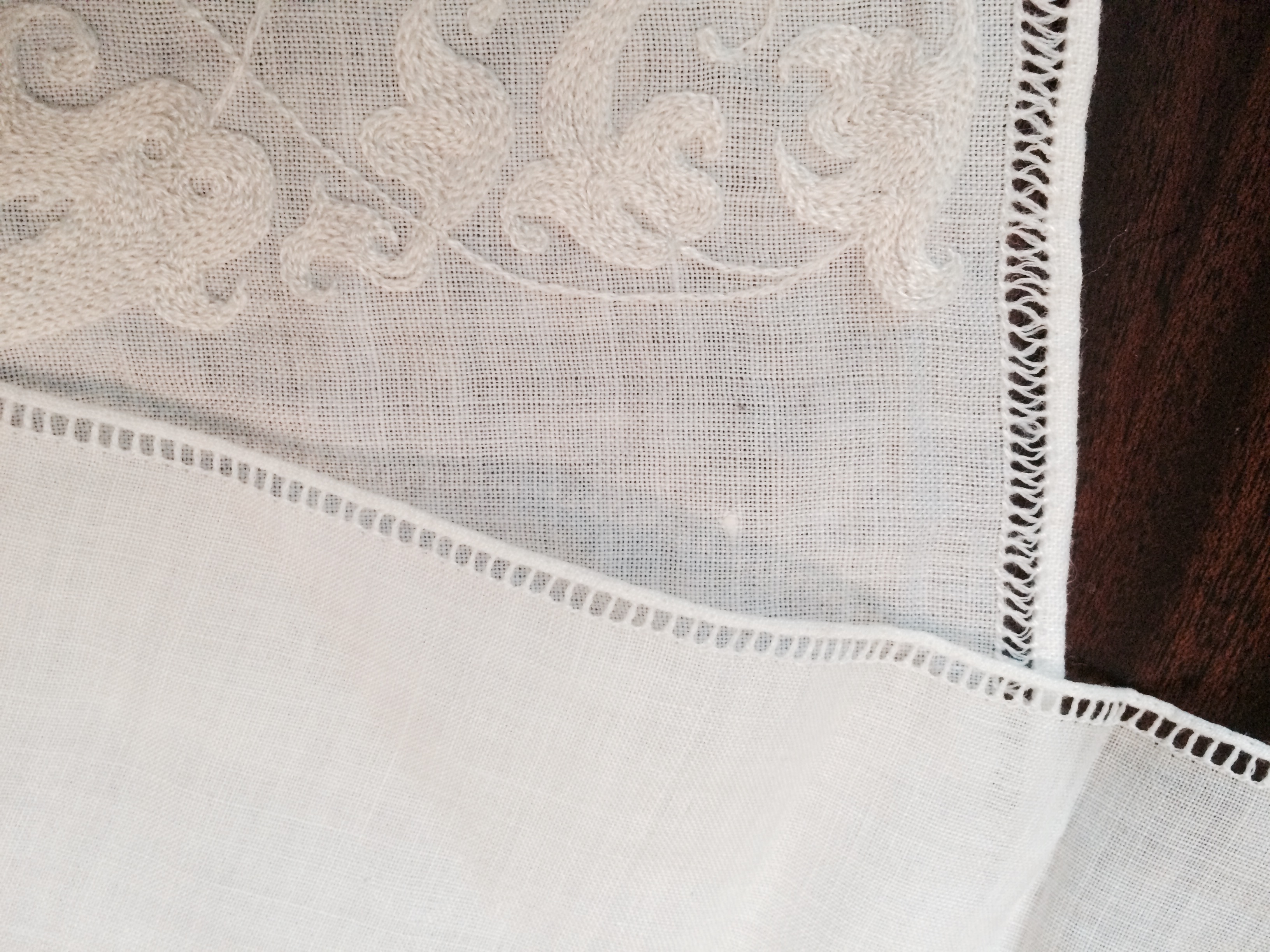 Learn and practice a few stitches to be used on whitework and begin a sampler to take home with you.
Class Limit: 15
Kit Fee: $10.00
Kit includes fine handkercheif linen, silk floss and a tapestry needle. Some kits will be available one a first come-first served basis at the beginning of class.
How to Register for a Class
The morning classes and the keynote address are first-come/first-seated. No registration is required for these classes.
To take an afternoon "kit" class, you must register by pre-paying for the class "kit". Because each "kit" class will be limited to a small number of students, registration is required.
To register for one of the "kit" classes:
Preregister for the event - see "Event Fees & Registration" for the information you need to send and where to send it.
Upon receipt of your event registration, we will send you by email the information on how to pay for the class "kit".
Send us payment for the class "kit" of your choice.
Once we have received payment for your class "kit", your name will be added to the class roster.
PLEASE NOTE - for afternoon "kit" classes:
Students much pre-pay for the class "kit". Class rosters will be filled based on the order in which payment for the class "kit" is received. To give class instructors sufficient time to assemble the "kits", payment for the "kits" must be received by the Class Coordinator on or before February 29, 2016.
Some of the afternoon "kit" cases do not permit auditors (people who do not register for the class). If you want to take one of these classes, the only way to guarantee that you can attend is to register.
What to Bring
Bring scissors, an embroidery hoop, and (if possible) your favorite lamp/lighting device with extension cords. A (comfy) folding chair would be a good idea for those whose backs (and bums) are not happy sitting on wooden benches for long periods of time.
In addition, please bring items for the Embroidery Display and to share during Show-n-Tell. We invite all attending to bring relevant books from their personal libraries to contribute to an event reference library. The library will be staffed, and books will not leave the library area.
Please DO NOT bring alcohol, as the Boy Scouts have a strict no alcohol policy for those who use the camp. Nor do they permit pets on site or smoking in any of the buildings. Do not jeopardize our future use of the site by violating their policies. If we find that you have alcohol, you will be asked to leave the site with no refund.
Event Fees and Reservations
The cost for the weekend - which includes lodging in a heated cabin as well as breakfast, lunch, and supper on Saturday and breakfast on Sunday - is $25. Those without proof of current Society membership must pay the $5 non-member surcharge at the door.
We anticipate the bunk spaces will fill up fast. Reserve early to avoid disappointment!
Event reservations must be postmarked on or before Saturday, February 27, 2016.
Make checks payable to "SCA PA, Inc. Shire of ACG".
Please include the following information with your payment:
SCA name
modern name
email address (so we can confirm receipt of your reservation and send you class kit payment information)
food allergies (if applicable)
mobility concerns (if applicable)
bunk space required for 2 nights / 1 night (specify Friday or Saturday) / 0 nights
are you interested in attending an afternoon "kit" class? " YES / NO). (For a description of these "kit" classes, see "Classes" and "Class Descriptions" above.)
If you indicate that you are interested in attending an afternoon "kit" class, we will send you by email the information about how to pay for the class "kits", once we have receive your event registration. See "How to Register for a Class" above for more information.
Reservations should be sent to:
Maistresse Marguerite d'Honfleur
c/o Dawn Maneval
922 College Court
Lewisburg, PA 17837
Refund Policy
Because the site requires us to pay the rental fee in full well before the event, we must ask our guests to reserve in advance.
If you request a refund of your event registration prior to March 1, we will refund your event fee. On or after March 1, we can only refund your event fee if we have sufficient attendees to break even.
If you have paid for a kit, we will refund the cost of the kit if we are able to re-sell it. If we cannot re-sell your kit, we will mail it to you after the event.
Instructor Biographies
Mistress Briony of Chatham, formerly of AEthelmearc (even before there was an AEthelmearc) currently resides in the central region of the East Kingdom. She is the fourth and current Guildmistress for the Keeper's of Athena's Thimble, the East Kingdom embroidery guild. As the guild is 30 years old, there are plenty of current AEthemartians who have been members! Her favorite form of embroidery is counted work. She is head over heels in love with the Mamluk Egyptian patterns in Marianne Ellis's "Embroideries and Samplers from Islamic Egypt." She also has a geekish love of breaking down symbols and such from all types of period embroidery, which is how she came to be teaching about the Oxburgh Hangings. At the event., she's looking forward most to seeing friends from AEthelmearc!
Lady Elizabet Marshall is a 12th Century lady from Shropshire, England, currently living in the Shire of Hartshorn-dale in the Kingdom of the East. She has always done things with thread. Having started from a love of counted work, she now divides her time about half and half between counted and free styles of embroidery. Elizabet is a Senior Member and Deputy Guildmistress of the Keepers of Athena's Thimble
Hrefna fruþikona Þorgrímsdottir is a 10th century Dane living in Hedeby. She enjoys long walks on the beach, beads, and defending her farm from vikings. Raven Fagelson is a 21st century American living in Pittsburgh. She prefers crewelwork, goldwork, and teaching her cat Norwegian (which is easier than it sounds.) She hopes this event will introduce new ways to teach embroidery in the SCA.
Jaqueline de Molieres is an early 14th Century woman living in her mother's England and dreaming of her father's France. She loves textiles of all kinds, and doesn't remember life without needle in hand. (Ricki is a fiber artist with expertise ranging from the restoration of antique quilts to the most modern of abstract wall hangings, and clothing made of hand-painted fabrics. She also doesn't remember life without needle in hand.)
Lodging and Parking
The heated sleeping cabin (Edna Sheary Lodge) is accessible to those with mobility restrictions and has indoor bathrooms with bathroom with showers, toilets, sinks, and electricity. The cabin also has a kitchenette and a meeting room.
There are 32 cots (total) in 2 sleeping areas. The cots have mattresses, but overnight guests should bring bedding (pillow, sleeping bag/sheets and blankets) and towels.
If you arrive on Friday night, drive to the Sheary Lodge to unload your gear. Parking spaces in front of the cabin will be reserved for those with mobility concerns.
If you arrive on Saturday, drive to the Dining Hall and check in. Parking spaces closest to the Dining Hall will be reserved for those with mobility concerns.
Meals
Saturday Breakfast: oatmeal & fixin's bar, yogurt & fruit, tea, coffee
Our talented Head Cook, Lady Elisabetta Tempesta, has planned a delicious lunch, afternoon tea, and feast to delight your appetite.
Click here for the planned menu/ingredients list (in PDF form).
Vegetarian, Vegan, and Gluten Free foods are listed as such in the menu.
If you have a food allergy, please mention this with your event reservation.
Sunday Breakfast: scrambled eggs, pancakes, tea, coffee
Merchants
Attending:
The Silk Shop - 100% silk fabrics - embroidered, tapestry-woven, cloth-of-golds, stripes, plaids, and more! All only $15 a yard, and all forms of payment accepted!
If you lusted after her luscious silks at Seven Deadlies but didn't purchase any, you get another chance!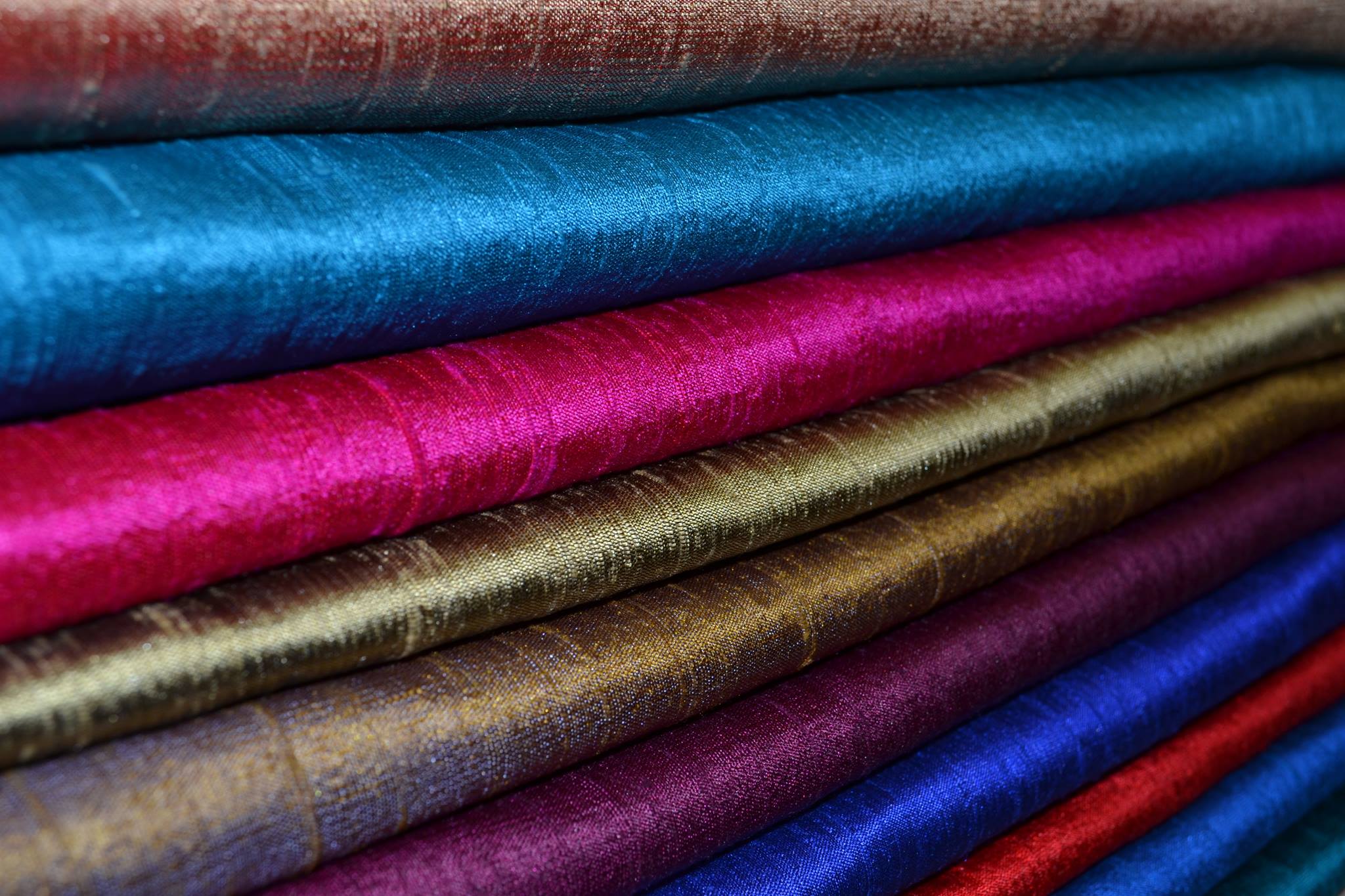 If you sell high-quality embroidery notions and supplies, please contact the Autocrat for details about space. There is no additional charge to merchant.
Swap Meet/Silent Auction
Do you have no-longer-wanted embroidery-type items that you'd be happy to send home with someone else? Maybe hoops or leftover linen or floss from a project or books ... ???
Place an unwanted item on the Swap Meet table to exchange for someone else's cast-off, and you both take home a treasure!
Or, help defray our out-of-Kingdom teachers' travel expenses by donating a SCAdianly-useful item to the Silent Auction. All proceeds from the Silent Auction will be split among the out-of-Kingdom teachers.
Everyone's a winner! Donors rid their homes of no-longer-wanted items, successful swappers and bidders go home with new treasures, and the teachers go home a little less poor.
Contacts
The Autocrat for the event is Mistress Alicia Langland (hutchnsn AT bucknell DOT edu) (mka Della Hutchison, 1194 Marshall St., Milton PA 17847; 570-742-4567)
The Head Cook is Lady Elisabetta Tempesta
The Reservations Clerk is Maistresse Marguerite d'Honfleur. She can be reached at dmaneval AT bucknell DOT edu or 570-523-7372
Directions
Guests coming from the east or west will probably travel on Route 80 to Route 15 to Route 45 to Route 235. Guests coming from the north will probably travel on Route 15.
From the West, East and North: Find your best route to Route I-80. Take Exit 210 A, Route 15 South, to Lewisburg. Stay on Route 15 S for about 7 miles; you will come to the intersection of Routes 15 and 45 at a light. Turn right onto Route 45 West. Continue at the * below.
From the South: Find your best route to Route 15 North. In Lewisburg, you will come to the intersection of Routes 15 and 45 at a light. Turn left onto Route 45 West. Continue at the * below.
(*) Proceed west on Route 45 West for about 17 miles, passing through the towns of Mifflinburg and Hartleton (follow speed limits here). At the intersection of Route 235 South, turn left.
From this turn, follow signs for 235 South for approximately 3 miles through Laurelton (last chance for food, gas, and ATM) and Glen Iron. The road makes several 90-degree turns; just before the last one, you will pass the West End Fire Company on your left.
Turn right onto Creek Road at the 4-way intersection past this last 90-degree turn. Penns Creek should be on your left. Stay on this road for approximately three miles; you will pass a large 3 story stone house with three arches, on your right, at this point you are about one mile from the Camp.
Just before you cross the bridge over Penns Creek, Penns Creek Campground will be on your right. Cross the bridge and turn right at the sign for Thomas Dam Road/Boy Scout Camp.
Camp Karoondinha is on the left. From the road, all you'll see is the parking area and the gate. As you go up the hill, look for the Troll sign. The Dining Hall is the large stone building with 3 flagpoles in front. To get to the Edna Sheary Lodge, continue up the hill past the Dining Hall. Sheary Lodge is located in the wooded area just past the large field on the right.
Please park your vehicle in the parking lot after you have checked in and unloaded your gear. Parking spaces in front of both buildings will be reserved for those with mobility concerns.
Drivers are asked to use their flashers and to travel at the posted 10 miles per hour.
Directions from the scouts are here
Google map:
Map showing site:
Get directions from Google maps
Here's a detailed map of the camp (click to enlarge):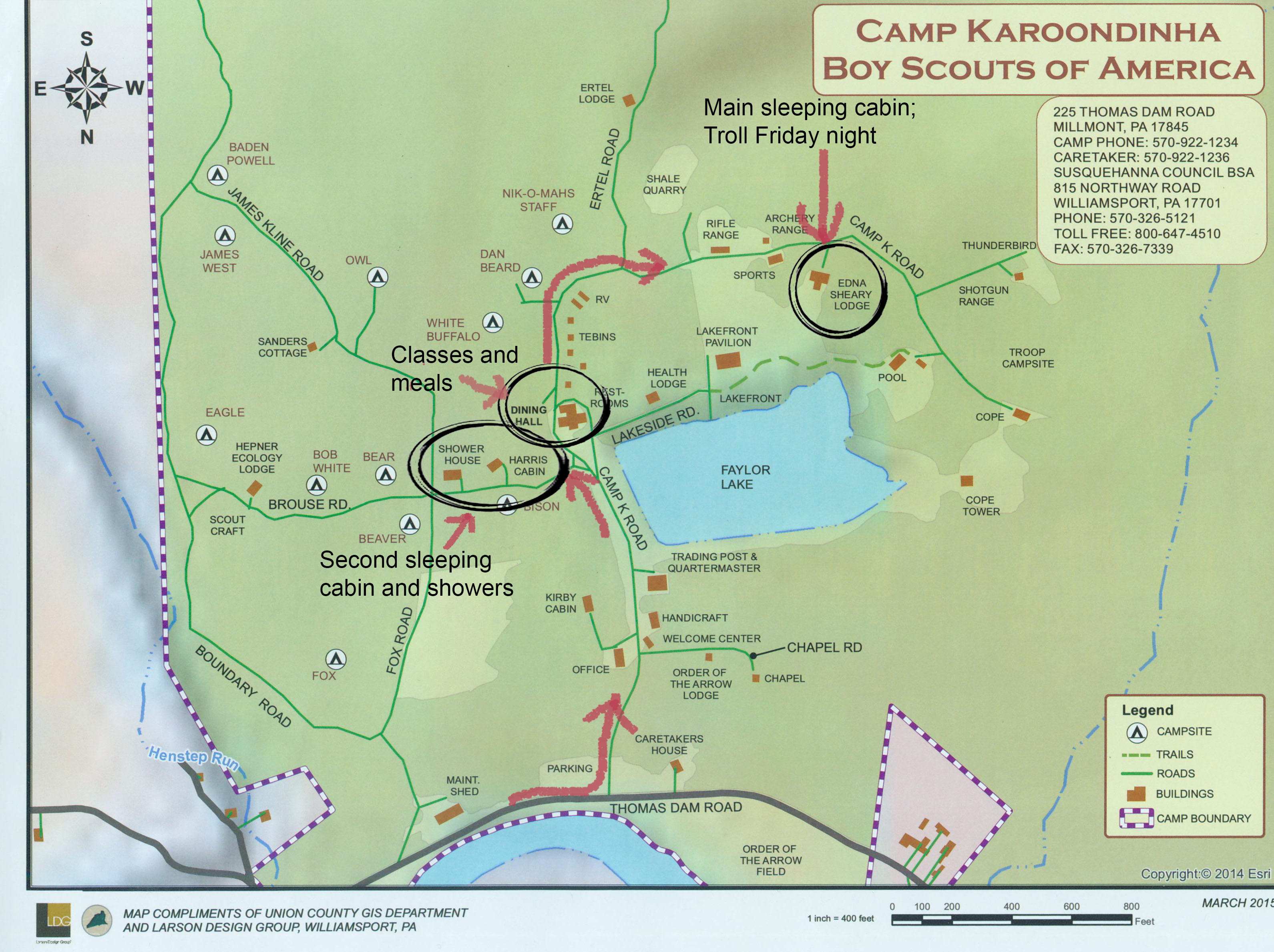 Or, download a pdf here
Local Area Information
Local (big) towns: Mifflinburg, Lewisburg, Milton
CVS: 140 E Chestnut St (AKA Rt 45) in Mifflinburg, and corner of Rt 45 and 3rd St in Lewisburg, and Rt 15 in Lewisburg (north of Rt 45)
Groceries: Rt 45 in Mifflinburg (Weis, Wengers), and Rt 15 in Lewisburg (Weis)
Walmart: Rt 15 in Lewisburg (north end of town)
Gas: all along Rt 45 in Mifflinburg, and Rt 15 in Lewisburg north of Rt 45
Hardware: Cole's on 145 E Chestnut St (AKA Rt 45) in Mifflinburg, and Lumber and Building Supply on 8200 Old Turnpike Rd (AKA Rt 45) in Mifflinbug, and Cole's in Lewisburg (55 N 2nd St), and Lewisburg Builders Supply/Ace Hardware on Rt 15 Lewisburg (north of Rt 45)
Other Lodging Options
Days Inn Lewisburg
409 N Derr Dr (AKA Rt 15), Lewisburg, PA 17837
likely $72 and up
(570) 523-1171
The Mifflinburg Hotel
264 Chestnut Street (AKA Rt 45) Mifflinburg, PA 17844
(570) 966-5400
Buffalo Valley Bed & Breakfast
376 Wirth Rd, Mifflinburg, PA 17844
(570) 922-0446
The Vicksburg Inn
6444 Old Turnpike Rd. (AKA Rt 45) P.O. Box 86, Vicksburg, PA 17883
(570) 966-8906
The Inn at New Berlin
321 Market St, New Berlin, PA 17855
$139 - $209
(570) 966-0321
Comfort Suites Lewisburg
4775 West Branch Highway (AKA Rt 15), Lewisburg, PA 17837
$131 - $152
(570) 524-8000
Restaurants
American: Carriage Corner, 257 E Chestnut St (AKA Rt 45) Mifflinburg, PA 17844, (570) 966-3866
Italian: La Primavera, 2593 Old Turnpike Road (AKA Rt 45) Lewisburg, PA 17837, (570) 523-1515
Fancy: Reba & Panchos, 2006 W Market St (AKA Rt 45) Lewisburg, PA 17837, (570) 522-7006 ($$)
Chinese: Peking Garden, 199 N Derr Dr (AKA Rt 15) Lewisburg, PA 17837, (570) 524-7787 (at the corner of Rt 15 and St Mary St) (free 3 mile delivery includes Days Inn and Comfort Suites)
American: Perkins, 309 N Derr Dr (AKA Rt 15) Lewisburg, PA 17837, (570) 523-7733 (next to Days Inn)
Pub: Towne Tavern, 600 Market St (AKA Rt 45) Lewisburg, PA 17837, (570) 524-0821 (corner of Rt 45 and 6th St)
Pub: Bull Run Inn, 605 Market St (AKA Rt 45) Lewisburg, PA 17837, (570) 524-2572 (corner of Rt 45 and 6th St)
Thai: Siam Cafe, 518 Market Street (AKA Rt 45) Lewisburg, PA 17837, (570) 523-1874 (Rt 45 between 6th and 5th St)
Japanese: Sushi Hanna, 434 Market St (AKA Rt 45) Lewisburg, PA 17837, (570) 523-0232 (Rt 45 between 5th and 4th St)
American: Lewisburg Hotel, 136 Market Street (AKA Rt 45) Lewisburg, PA 17837 (corner of Rt 45 and 2nd St) (570) 523-7800 ($$)
BBQ: Ard's Farm, 4803 Old Turnpike Road, Lewisburg, PA 17837, (570) 524-9820
Brew Pub: Rusty Rail Brewing Company, 5 N 8th St #1, Mifflinburg, PA 17844, (570) 966-7878
Bar: Boomerang's Bar & Grille , 17705 Old Turnpike Rd, Millmont, PA 17845, (570) 922-1232