The Academy of St. Clare of Assisi:
Keeping You in Stitches
Shire of Abhainn Ciach Ghlais

(central Pennsylvania/Æthelmearc)


Friday, March 29th through Sunday, March 31st, 2019
Bored with a wardrobe filled with plain-Jane gowns? Transform one of those ho-hum garments with a bit of embroidery, and you now have a one-of-a-kind garment that others admire! Or, go all-out and embroider the entire surface of a coif, a pouch, a sleeve, or even a jacket! Whether this is your first time putting needle to thread or you're an embroidery veteran, if you've been waiting for the know-how or the motivation, "The Academy of St. Clare of Assisi: Keeping You in Stitches!" will enable and inspire you!
At this weekend event devoted to the art of the needle, you will:
Spend time with fellow embroiderers, relishing the relaxed atmosphere with others who share your passion for stitching.
Learn more about embroidery!
The Academy of St. Clare offers you two ways to learn or share what you know. It features:
Small, specialized classes on single topics. These classes are usually one hour in length and taught by embroiderers for embroiderers. They require no special sign-up before the event.
Long, detailed "kit" classes on beloved styles. NOTE: Afternoon "kit" classes have limited spaces and require pre-registration and pre-payment. Pre-registration opens on January 15, 2019, and ends on March 1, 2019. (For more information, please read "How to Pre-Pay for a 'Kit' Class," below.)
This All-Embroidery weekend starts at 5 PM on Friday, March 29th, and ends at 11 AM, on Sunday, March 31st.
Site
Our traditional site, Boy Scout Camp Karoondinha, 225 Thomas Dam Road, Millmont PA 17845-9448 opens to guests at 5 PM on Friday, March 29th, and closes at 11 AM, on Sunday, March 31st.
NOTE: The site is a Boy Scout Camp located on the side of a mountain, and the roads and paths are gravel, not paved. This can make getting about difficult. Some walking/driving will be required, as the buildings we will be using are not near each other.  Edna Sheary Lodge has ramps leading from the parking lot to the cabin door.  The Dining Hall has grade-level doors.  All buildings have designated accessible parking spaces in front.  If you have mobility concerns, please request a parking placard when you send in your reservation.
Cell phone service at the site can be spotty, depending on one's carrier.
Schedule & Activities
Friday:
5:00 - 10:30 PM
Troll opens; check in at Edna Sheary Lodge
8:30 PM
Make-and-Take (Edna Sheary Lodge): Details forthcoming!
Saturday:
(Unless otherwise noted, all Saturday activities will be in the Dining Hall.)
8:00 AM
Troll re-opens
8:00 - 8:45
Breakfast
All day
Embroidery Display Area: Display your work, for feedback & inspiration.
9:00 - 11:00
Keynote Address
11:00 - noon
Morning Classes
noon - 1:00
Lunch
1:00 - 4:00 PM
Kit Classes, Stitch in the Solar, or Peruse the Reference Library
4:00 - 5:00
Tea
4:30
Silent Auction ends
4:45 - 5:45
Embroidery Display & Show & Tell, mix and mingle, sit and stitch, etc.
6:00 - 7:00
Supper
7:30 - 8:30
Embroidered Fashions Show
8:30 till ...
Stitch-in
Sunday:
8:30 - 9:30
Breakfast (served in Edna Sheary Lodge, for all attendees)
11:00
Site Closes
Keynote address
We are fortunate to welcome Lady Aime Sparrow, from the Kingdom of Atlantia, as this year's Keynote Speaker.  Her lecture/discussion on extant late 16th/early 17th century jackets will present macrophotos – whittled from thousands of photos to the 200 best – from museums including the Museum of London, Victoria & Albert Museum, the Costume Museum of Bath, the Maidstone Museum, the Museum of Nottingham, and the Gallery of Costume at Platt Hall.  Macrophotos of the jackets will highlight details of construction and the embroidery.  (Because of photography agreements, the photos cannot be posted electronically or distributed, so handouts with information will be provided but will not include extant photos.)
Lady Aime Sparrow is a 16th-century Englishwoman who made her living doing embroidery before she married a widower merchant and moved to Germany.  In the SCA, she has authored numerous articles about costuming in Tournaments Illuminated as well as the Compleat Anachronist monograph, "A Survey of Late Sixteenth / Early Seventeenth Century Embroidered Jackets."
Aime's modern alter-ego, Aimee Kratts, has been sewing since the age of five.  In 2013, she was selected by Historic Jamestowne to work on the "Jane" project with the Smithsonian Museum of Natural History.  (For more about her contribution to this project, see the Jamestown Coif Project (pdf).)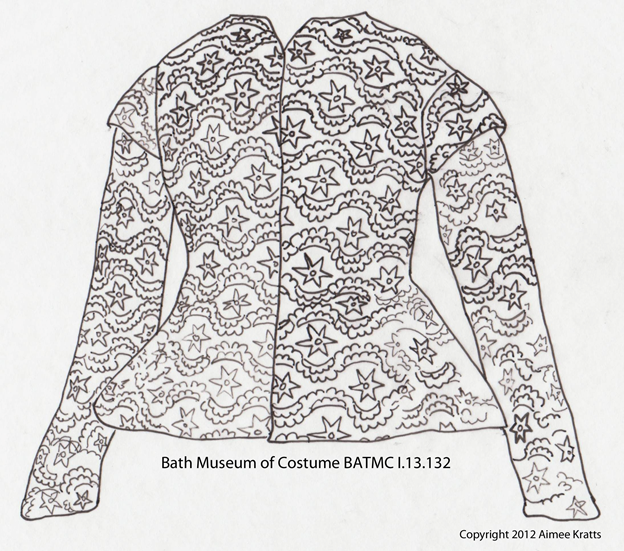 Classes
Stay tuned for details!
We are working hard to bring you the best teachers and classes on topics you are eager to learn!
Interested in teaching? Please contact Mistress Jaqueline at moliere1297 at yahoo dot com.
How to Pre-Pay for a "Kit" Class
Each afternoon "kit" class will be limited to a small number of students.  Some do not permit auditors (people who are not registered for the class).
If you want to take a specific "kit" class, the only way to guarantee that you can attend is to register in advance.
To ensure your place in a "kit" class, you must pre-pay for the "kit" class you wish to take.  (This allows instructors sufficient time to order supplies and then prepare the kits.)
PLEASE NOTE:
Class sign-up is first-come, first-served, based on when the Class Coordinator receives your "kit" payment. 
To pre-pay for a "kit" class:

Preregister for the event - see "Event Registration" for where to send your preregistration and what information to include with it.
Upon receipt of your event registration, the Class Coordinator will email you instructions to pre-pay for your class "kit."
Mail the Class Coordinator your pre-payment for the class "kit" of your choice.
When the Class Coordinator has received payment for your class "kit," your name will be added to the class roster.
What to Bring
Bring scissors, an embroidery hoop, and (if possible) your favorite lamp/lighting device with extension cords. A (comfy) folding chair would be a good idea for those whose backs (and bums) are not happy sitting on hard plastic chairs for long periods of time.
In addition, please bring items for the Embroidery Display and to share during Show-n-Tell.
We invite all attending to bring relevant books from their personal libraries to contribute to the event reference library. The library will be staffed, and books will not leave the library area.
If possible, please bring donations for the Silent Auction:  no-longer-wanted embroidery supplies, books, or other items of interest to SCAdian crafters.
Please DO NOT bring alcohol, as the Boy Scouts have a strict no alcohol policy for those who use the camp. Nor do they permit pets on site or smoking in any of the buildings. Do not jeopardize our future use of the site by violating their policies. If we find that you have alcohol, you will be asked to leave the site with no refund.
Event Reservation
Weekend Registration includes lodging in a heated cabin as well as breakfast, lunch, afternoon tea, and supper on Saturday and breakfast on Sunday.
To register:
Include the following with your reservation:
SCA name
modern name
email address
food allergies (if applicable)
mobility concerns (if applicable)
bunk space required for 2 nights / 1 night (specify Friday or Saturday) / 0 nights
Are you interested in attending an afternoon "kit" class? YES / NO

Make checks payable to "SCA PA Inc. -- Shire of ACG."
Adult Event Registration: $35.00 if postmarked on or before 12/31/18; $40.00 on or after 1/1/19
Adult Member Discount Event Registration: $30.00 if postmarked on or before 12/31/18; $35.00 on or after 1/1/19. Please include copy of current SCA membership card.
Send reservations to: Maistress Marguerite d'Honfleur, c/o Dawn Maneval, 922 College Court, Lewisburg PA17837.
Event staff will contact you with information about registering for your afternoon "kit" class.
Refund Policy
Because the site requires us to pay the rental fee in full well before the event, we must ask our guests to reserve in advance.
If you request a refund of your event registration prior to March 1, we will refund your event fee. On or after March 1, we can only refund your event fee if we have sufficient attendees to break even.
Lodging and Parking
Sleeping cabins are heated, have electricity, and have a kitchenette.
The cabins' dormitory-style rooms sleep 16 to 30 people.  The double-decker bunk beds have mattresses, but overnight guests should bring bedding (pillow, sleeping bag/sheets and blankets) and towels. We recommend bringing earplugs if you are a light sleeper.
Bunk spaces are filled on a first-paid, first-served basis.
Need a bottom bunk?  Please reserve early!
Need access to electricity?   Request a bottom bunk near an outlet.  Please reserve earlier!
Want to be in the cabin with indoor plumbing?  Request Sheary Lodge.  Please reserve earliest!
Edna Sheary Lodge is accessible to those with mobility restrictions and has electric heat and indoor bathrooms (sinks, toilets, showers). There are 16 double-decker bunk beds (total) in 2 sleeping areas, making these rooms feel a bit crowded. Edna Sheary Lodge also has a gathering room.
Kirby Cabin has 15 double-decker bunk beds in one large dormitory-style room;  this sleeping area is more spacious than Edna Sheary Lodge.  NOTE:  Kirby does NOT have indoor bathrooms;  however, flush toilets are located in a nearby building.
All buildings have designated accessible parking spaces.  Guests may park in front of their sleeping cabin rather than parking in the lot at the bottom of the hill.
Meals
Meals will be provided by members of Abhainn Ciach Ghlais's Guild of St. Lawrence. 
Please mention any food allergies with your reservation so our cooks can accommodate your special needs.
Hot beverages (coffee, tea, hot chocolate, etc.) and sweets will be available throughout the weekend at our celebrated Hospitality Table.
Saturday Breakfast: oatmeal & fixin's bar, yogurt & fruit, hot tea, coffee
Saturday Lunch: TBA
Saturday Afternoon Tea: a variety of loose-leaf teas and assorted finger foods
Saturday Supper:  TBA
Sunday Breakfast: TBA
Silent Auction
Do you have no-longer-wanted embroidery-type items that you'd be happy to send home with someone else? Maybe hoops, or leftover linen, or floss from a project, or books ... ???
Help defray our out-of-Kingdom teachers' travel expenses by donating a SCAdianly-useful item to the Silent Auction. All proceeds from the Silent Auction will be split among the out-of-Kingdom teachers.
Everyone's a winner! Donors rid their homes of no-longer-wanted items, successful bidders go home with new treasures, and the teachers return home with gas in their tanks and a few coins in their pockets.
Contacts
The Autocrat for the event is Mistress Alicia Langland (hutchnsn AT bucknell DOT edu)
The Head Cook is Lady Elisabetta Tempesta
The Reservations Clerk is Maistrese Marguerite d'Honfleur, c/o Dawn Maneval, 922 College Court, Lewisburg PA17837
The staff of the Academy of St. Clare hopes you will join us!
Directions
Guests coming from the east or west will probably travel on Route 80 to Route 15 to Route 45 to Route 235. Guests coming from the north will probably travel on Route 15.
From the West, East and North: Find your best route to Route I-80. Take Exit 210 A, Route 15 South, to Lewisburg. Stay on Route 15 S for about 7 miles; you will come to the intersection of Routes 15 and 45 at a light. Turn right onto Route 45 West. Continue at the * below.
From the South: Find your best route to Route 15 North. In Lewisburg, you will come to the intersection of Routes 15 and 45 at a light. Turn left onto Route 45 West. Continue at the * below.
(*) Proceed west on Route 45 West for about 17 miles, passing through the towns of Mifflinburg and Hartleton (follow speed limits here). At the intersection of Route 235 South, turn left.
From this turn, follow signs for 235 South for approximately 3 miles through Laurelton (last chance for food, gas, and ATM) and Glen Iron. The road makes several 90-degree turns; just before the last one, you will pass the West End Fire Company on your left.
Turn right onto Creek Road at the 4-way intersection past this last 90-degree turn. Penns Creek should be on your left. Stay on this road for approximately three miles; you will pass a large 3 story stone house with three arches, on your right, at this point you are about one mile from the Camp.
Just before you cross the bridge over Penns Creek, Penns Creek Campground will be on your right. Cross the bridge and turn right at the sign for Thomas Dam Road/Boy Scout Camp.
Camp Karoondinha is on the left. From the road, all you'll see is the parking area and the gate. As you go up the hill, look for the Troll sign. The Dining Hall is the large stone building with 3 flagpoles in front. To get to the Edna Sheary Lodge, continue up the hill past the Dining Hall. Sheary Lodge is located in the wooded area just past the large field on the right.
Parking spaces in front of both buildings will be reserved for those with mobility concerns.
Drivers are asked to use their flashers and to travel at the posted 10 miles per hour.
Directions from the scouts are here
Google map:
Map showing site:
Get directions from Google maps
Here's a detailed map of the camp (click to enlarge):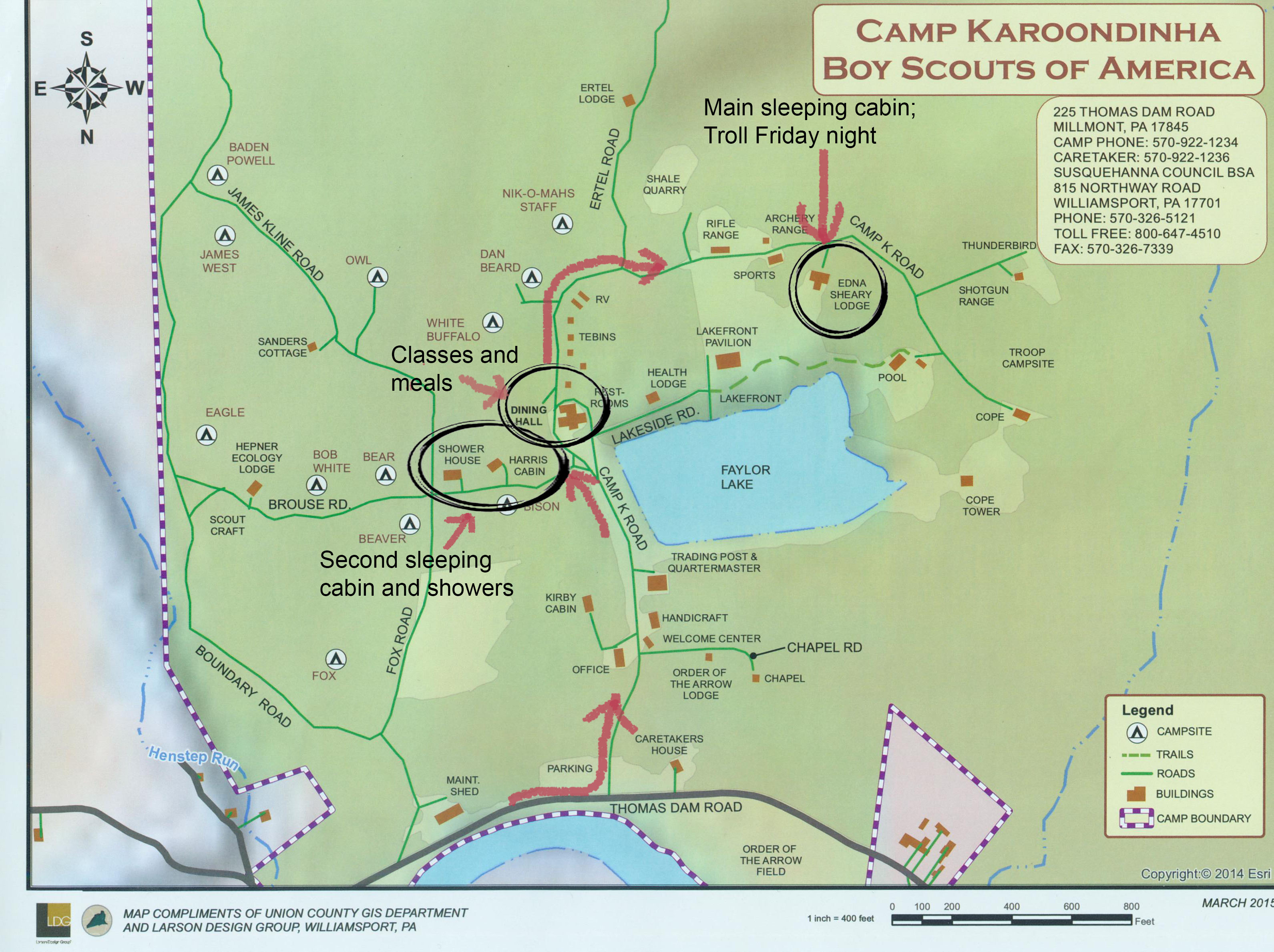 Or, download a pdf here
Local Area Information
Local (big) towns: Mifflinburg, Lewisburg, Milton
CVS: 140 E Chestnut St (AKA Rt 45) in Mifflinburg, and corner of Rt 45 and 3rd St in Lewisburg, and Rt 15 in Lewisburg (north of Rt 45)
Groceries: Rt 45 in Mifflinburg (Weis, Wengers), and Rt 15 in Lewisburg (Weis)
Walmart: Rt 15 in Lewisburg (north end of town)
Gas: all along Rt 45 in Mifflinburg, and Rt 15 in Lewisburg north of Rt 45
Hardware: Cole's on 145 E Chestnut St (AKA Rt 45) in Mifflinburg, and Lumber and Building Supply on 8200 Old Turnpike Rd (AKA Rt 45) in Mifflinbug, and Cole's in Lewisburg (55 N 2nd St), and Lewisburg Builders Supply/Ace Hardware on Rt 15 Lewisburg (north of Rt 45)
Other Lodging Options
Days Inn Lewisburg
409 N Derr Dr (AKA Rt 15), Lewisburg, PA 17837
likely $72 and up
(570) 523-1171
The Mifflinburg Hotel
264 Chestnut Street (AKA Rt 45) Mifflinburg, PA 17844
(570) 966-5400
Buffalo Valley Bed & Breakfast
376 Wirth Rd, Mifflinburg, PA 17844
(570) 922-0446
The Vicksburg Inn
6444 Old Turnpike Rd. (AKA Rt 45) P.O. Box 86, Vicksburg, PA 17883
(570) 966-8906
The Inn at New Berlin
321 Market St, New Berlin, PA 17855
$139 - $209
(570) 966-0321
Comfort Suites Lewisburg
4775 West Branch Highway (AKA Rt 15), Lewisburg, PA 17837
$131 - $152
(570) 524-8000
Restaurants
American: Carriage Corner, 257 E Chestnut St (AKA Rt 45) Mifflinburg, PA 17844, (570) 966-3866
Italian: La Primavera, 2593 Old Turnpike Road (AKA Rt 45) Lewisburg, PA 17837, (570) 523-1515
Fancy: Reba & Panchos, 2006 W Market St (AKA Rt 45) Lewisburg, PA 17837, (570) 522-7006 ($$)
Chinese: Peking Garden, 199 N Derr Dr (AKA Rt 15) Lewisburg, PA 17837, (570) 524-7787 (at the corner of Rt 15 and St Mary St) (free 3 mile delivery includes Days Inn and Comfort Suites)
American: Perkins, 340 International Dr, Lewisburg, PA 17837, (570) 523-7733 (near the Sheetz and Walmart North of Lewisburg)
Pub: Towne Tavern, 600 Market St (AKA Rt 45) Lewisburg, PA 17837, (570) 524-0821 (corner of Rt 45 and 6th St)
Pub: Bull Run Inn, 605 Market St (AKA Rt 45) Lewisburg, PA 17837, (570) 524-2572 (corner of Rt 45 and 6th St)
Thai: Siam Cafe, 518 Market Street (AKA Rt 45) Lewisburg, PA 17837, (570) 523-1874 (Rt 45 between 6th and 5th St)
Japanese: Sushi Hanna, 434 Market St (AKA Rt 45) Lewisburg, PA 17837, (570) 523-0232 (Rt 45 between 5th and 4th St)
American: Lewisburg Hotel, 136 Market Street (AKA Rt 45) Lewisburg, PA 17837 (corner of Rt 45 and 2nd St) (570) 523-7800 ($$)
BBQ: Ard's Farm, 4803 Old Turnpike Road, Lewisburg, PA 17837, (570) 524-9820
Brew Pub: Rusty Rail Brewing Company, 5 N 8th St #1, Mifflinburg, PA 17844, (570) 966-7878
Bar: Boomerang's Bar & Grille , 17705 Old Turnpike Rd, Millmont, PA 17845, (570) 922-1232