Stories About the Lawrence Hyde Family
Compiled by
Daniel C. "Skip" Hyde
August 7, 2009
Submit your stories to
Daniel C. Hyde
235 Stein Lane
Lewisburg, PA 17837
570-524-9994
hyde@bucknell.edu
---
The Pillowcase
Story about Edson Hyde
Told by Edson Hyde<![if !supportFootnotes]>[1]<![endif]> and expanded on by Dan "Skip" Hyde<![if !supportFootnotes]>[2]<![endif]>
Climena "Minnie" Warner, born 1807 in Massachusetts, had first on January 19, 1824 married Arawna (or Arunah) Hyde (b. 10 Oct. 1797 in Vt.; d. 27 Mar. 1827 at Poultney, Vt.), son of Samuel Hyde, and Freelove Clark. It was Arawna's third marriage. Soon after March 1827, Myron Hyde, son of Fay Hyde<![if !supportFootnotes]>[3]<![endif]> and Lydia Manning, married Arawna's widow Climena Warner Hyde. Myron and Climena lived in Poultney, Vermont, where he was a farmer.
Around 1828, Myron and Climena moved to Bingham Township, Potter Co., PA where he continued his farming. The trip from Poultney, Vermont, near the New York State border, to Potter County, PA must have been an especially rough trip without any roads and the fact that Climena was pregnant with or caring for their first child Charlotte Marie. Charlotte Marie was born March 12, 1828.
Myron and Climena lived in the Millport - Shinglehouse area. Lumbering was a growing business in this part of Pennsylvania at this time and Myron helped to float logs down the river.
Their second child Julius Myron ("Uncle Jewel") was born October 28, 1830 in Bingham Township, Potter County. Their third child Edson was born February 26, 1835, in Bingham township, Potter County, PA.
In 1836 while both were still in middle life, Myron and Climena died of yellow fever. Tradition states they died a week apart. Their young sons Julius, age 5, and Edson, age 15 months, were brought from Bingham Township to Ulysses in a pillowcase on horseback by Ora (Orange) Lewis. Ora Lewis later became sheriff in 1841. The borough of Lewisville (in the township of Ulysses) takes its name from Ora A. Lewis, who settled there in 1830.
---
<![if !vml]>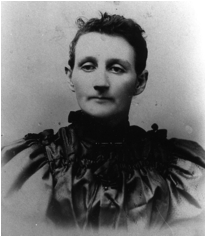 <![endif]><![if !vml]>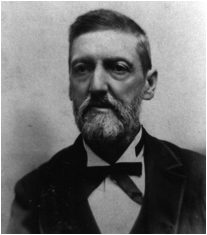 <![endif]>
Addie Louisa (Hill) Hyde and Edson Hyde
Edson Hyde raised by Albert and Sarah Lewis
Story about Edson Hyde, father of Lawrence Hyde
Told by Edson Hyde<![if !supportFootnotes]>[4]<![endif]> and expanded on by Dan "Skip" Hyde
Ora A. Lewis brought Edson by pillowcase on horseback to his brother Albert Lewis in Ulysses. From the age of 15 months to sixteen years, Edson was raised by Albert G. Lewis (b. 23 Mar. 1813; d. 5 Jan. 1878) and Sarah E. Lewis. Albert G. Lewis and Ora A. Lewis were sons of Albert G. Lewis (b. 25 Dec. 1781; d. 6 Mar. 1855), son of Jessie Lewis. Sarah Lewis died October 6, 1856 at the age of 42 years and Albert then remarried Lucy R. (b.1817; d. 1899). This is the Lucy that Edson Hyde's children called "Aunt Lucy." The Lewis House at 613 South Main Street, Ulysses, PA where Elaine Hyde Flewellyn lives today, was purchased from Aunt Lucy by Edson in 1897. Aunt Mil's part of the house (the old parlor) was built for Aunt Lucy after Edson and his wife Addie moved in. It has no cellar under it. Mil's kitchen today was Lawrence's Justice of the Peace Office and originally Addie's bedroom.<![if !supportFootnotes]>[5]<![endif]>
---
<![if !vml]>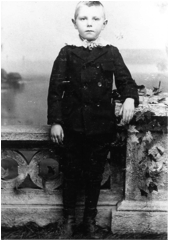 <![endif]><![if !vml]>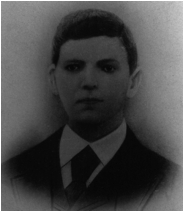 <![endif]>
Lawrence Hyde and brother Albert "Allie"
Lawrence's brother Allie dies and Lawrence almost dies
Story told by Lawrence Hyde<![if !supportFootnotes]>[6]<![endif]> in 1955
Edson Hyde was a carpenter and built and repaired buildings. Edson and Addie Hyde's oldest son Albert "Allie," born June 13, 1877, worked right along with his father Edson. In 1887, Addie had completed the largest and best barn in the town of Ulysses. It was soon to open as a livery and feed stable opposite the Hosley House (back of Larry Blanchard's) – now called the Whipple barn. In 1889, Edson rented the property to Chappel and Hosley.
In March, 1888, Edson and Addie moved to Waterview, Virginia. Edson went south with a Mr. Bailey where they established a lumbering and furniture business. While in Virginia, Edson was a carpenter, farmer, blacksmith, jeweler, dentist, and had a saw mill and canning factory among other things. While down at Waterview, Mr. Bailey's son drowned and Edson and Addie's son Allie died, at age seventeen.
In 1894 both Lawrence and his brother Albert "Allie" contracted typhoid fever. They don't know how they contracted it. Lawrence remembered taking quinine. While his brother Allie died on Oct. 15, 1894 from the fever, Lawrence, only seven years old, managed to survive it. He had three large abscesses on his head as a result of the typhoid fever and he had to learn to walk all over again. His sisters helped teach him with his small child crutch. [Aunt Elaine Hyde Flewellyn still has the crutch in her house.] He remembered one time when his sisters watched him fall over a tin bucket.
Edson never quite recovered from the loss of his oldest son. After Allie's death he lost all interest in his work. Following these tragedies Edson and Addie returned to Ulysses in Dec. 1897.
---
<![if !vml]>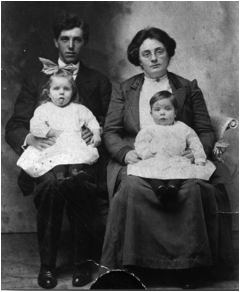 <![endif]>
Lawrence and Lois (Cook) Hyde with Mildred "Mil" and Bernard "Skinny"
How Lawrence Hyde and Lois Cook met
Story told by Lawrence Hyde in 1955<![if !supportFootnotes]>[7]<![endif]>
In 1908, Lawrence Hyde, twenty years old, met his future wife Lois Mable Cook,<![if !supportFootnotes]>[8]<![endif]> age 18. At the time, Lawrence lived with his sister Edith on Fox Hill, south of Ulysses, working a 100-acre farm. Lois lived with Mary and George Fie White in Ulysses. John Tripp Lewis, who played fiddle with George White at dances, had a room upstairs at Edson Hyde's (Lawrence's father) law office in Ulysses. Lawrence visited his folks at the old Lewis House [Edson Hyde's parents died from yellow fever when he was a baby and he was raised by Albert G. and Sarah E. Lewis.] on Main Street and met Lois. Later, Lois came up to the farm with Lawrence's sister Edith. Lois and Lawrence went together about one year before they were married. Lawrence had fond memories of the winter of 1908 when he and Lois went up to Oscar Crandall's by horse and cutter.
---
<![if !vml]>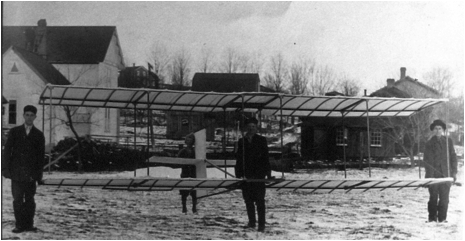 <![endif]>
Lawrence Hyde, Innis kid who flew, ?, and Walter Hyde
The Hyde Glider
Story told by Lawrence Hyde in 1955<![if !supportFootnotes]>[9]<![endif]>
In Ulysses, Lawrence and his brother Walter, when they were about fifteen and twelve years old, and a neighbor boy Harry Innis built a glider in the barn. It was made of cloth, aluminum sockets, light wood and shellac. The wingspread was 4 feet and the length was 15 feet. To fly it, one stood in it and hung onto a rope. To change altitude, you went forward along the length of the rope to go down. And back to go up. They sailed the glider off the hill called Devil's Elbow with the smaller and younger Innis kid as first pilot. After many gliding trips, Lawrence felt confident and tried to land the glider in the barn to save dragging it after it landed. Unfortunately, he misjudged by a few inches and sheared off the wing.
---
<![if !vml]>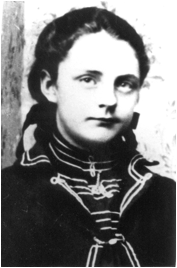 <![endif]>
Lois Cook c. 1905
Born in a Fishbasket
Story about Lois (Cook) Hyde
Story told by Lawrence Hyde in 1955<![if !supportFootnotes]>[10]<![endif]>
Lois Mable Cook was born June 7, 1890. Mary Cook Mattison, her sister, believed that Lois was born at Austinburg, PA and that she was taken to Fishbasket, Potter County, PA at the age of two months. Lois herself always told her children that she "was born in a fishbasket."
Lois' Dad Ben Cook worked in a mill at Fishbasket (a small settlement five miles south of Coudersport, Potter County, PA). This hamlet was so named because there was a deep hole by the mill and many fish were caught in it. This was a town that sprung up during lumbering days.
---
<![if !vml]>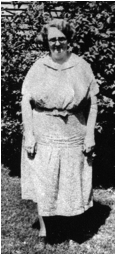 <![endif]>
Lois (Cook) Hyde c. 1940
Lois Cook Hyde's love of music
Story told by Lawrence Hyde in 1955<![if !supportFootnotes]>[11]<![endif]>
Lois Mable Cook was born June 7, 1890 in the little village of Austinburg, Tioga County, Pennsylvania. Her parents were Benjamin Charles Cook and Clara (Clarissa) Rice Cook. Her mother Clara died of typhoid pneumonia when Lois was a baby. Lois was reared by her aunt Mary Amanda Cook White and her husband George. Mary White was her aunt but Lois always called them "Mama and Papa." They were known as Grandpa and Grandma White to Lois's children. Lois spent all of her life in or near Ulysses, Potter County, PA. Lois married Lawrence Hyde of Ulysses, PA on June 2, 1909.
Lois was given a thorough training in those days in both vocal and instrumental music. Her teacher was Josephine Moon Stone who lived in Whitesville, N. Y. When she gave lessons, she would stay overnight at the home of her pupils.
Lois was certified to be a schoolteacher but in those days if you got married you could not teach. Therefore, she never did teach school. Later, during the depression, she did teach piano to music students.
Lois loved to play her piano. During the "bad winter" of 1938-1939, she played all the time. Mildred Hyde said, "Dad Hyde [Lawrence] would get so mad and yell, 'Where is my dinner? You are playing that piano again.'" The winter was so bad because many of Lawrence and Lois's children and spouses had moved into their house on Cobb Street as they did not have employment. Over a dozen were living in the house and no one had a job or a working car. Lois played the piano to entertain them all.
---
Nicknames of the Hyde brothers<![if !supportFootnotes]>[12]<![endif]>
<![if !vml]>
<![endif]>
Bernard "Skinny", Ronald "Buck", Harold "Stiff", Carl "Limber", Clair "Spide" (1937)
<![if !vml]>
<![endif]>
"Spide", "Buck", Lawrence, their Dad, "Skinny", "Stiff" (late 1950s)
Strange names! Right? Most of the Hyde brothers played basketball together. A guy who played basketball with them gave the Hyde brothers nicknames. "Spide" was named for Spider, an adventure comic book. "Skinny" was skinny. Carl was called "Limber" because he was so limber. Since there was a "Limber," there had to be a "Stiff", who is Harold.<![if !supportFootnotes]>[13]<![endif]>
---
Mary and Stiffie Hyde
Stories about Mary Hall and Harold Hyde
<![if !vml]>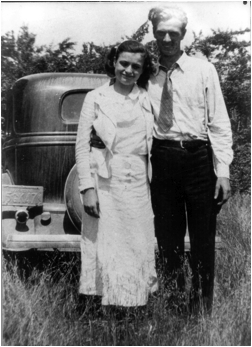 <![endif]>
Mary and "Stiffie" in 1933 just before they were married
When Dan was a kid, his cousins knew his Dad only as Uncle Stiffie. Dan's Mom Mary (Hall) Hyde hated the nickname "Stiff" and refused to use it. She always said, "It reminds me of a stiff in a morgue!"
---
Tight Engine
Story about Harold Hyde
Told by Harold Hyde to Dan Hyde
Note the 1933 Ford V-8 in the background of the above photo. This car was always being dismantled and repaired by the Hyde brothers. Harold, a whiz with machinery, was the only one who could reassemble it. Once, the "gang" forgot to oil the engine parts and the engine was so tight it would not turn over. They had to remove several spark plugs to lower the compression. Slowly they coaxed the engine into working.
---
<![if !vml]>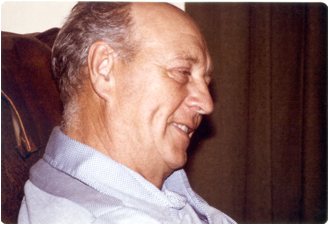 <![endif]>
Harold Hyde laughs at a joke and relishes telling such stories as "The Rooster Skinny Shot."
The Rooster Skinny Shot
Told by Harold Hyde to Dan Hyde
Melvin Metcalfe, my brother Skinny, Jimmy Whipple and their friends were returning from swimming at Louck's Mills. When they drove past the Monroe Farm, there was a rooster out in the yard. Skinny said, "I'll bet I can hit that rooster." Using Melvin's .22 pistol which they had in the car, he took a shot at the rooster. Darned if he didn't kill it! Mr. Monroe saw it happen. He went to our Dad, Lawrence Hyde, and Lawrence had to pay for the rooster. One chance in a million could one hit a moving rooster in the head with a .22 pistol while the car was moving!
---
The Water Tank
Story about the Hyde brothers
Told by his grandpa, Harold Hyde, to Scott Hyde<![if !supportFootnotes]>[14]<![endif]>
Summers could be hot in Ulysses, PA, where the Hyde brothers were raised. One particularly hot day, the young Hyde brothers Skinny, Buck, Stiff, Limber and Spide with several of their friends snuck over to the water tank that was used to provide water to the Pennsylvania Railroad steam trains that ran through town. They had been here before and had learned that by boosting one of the smaller kids up he could reach the lowest ladder rung on the ladder that ran up the outside of the tank. The kid would tie a short rope on the rung and the rest of the gang could reach the ladder. Since it was illegal to be on the tank, they carefully untied the rope when the last boy was up so that no passerby would be suspicious of a dangling piece of rope.
The water tank was open at the top and the boys could climb up the ladder, swing over the edge and climb down a second ladder inside the tank and go swimming in the water.
The brothers had swum in the water tank many times. But on this day, the boys were in for a big surprise and an even bigger dilemma! While they were swimming, a train had arrived and needing water, had drained a substantial amount of the water out of the tank. The boys playing and horsing around in the tank had not noticed the water level was lowering. When they wanted to leave to go home, they discovered that the water level was so low they could not reach the lowest rung of the inside ladder. They were trapped!
They yelled and screamed for help but their voices didn't travel very far outside walls of the tall wooden water tank. After several hours one of their friends came looking for them. After he laughed about their predicament, he ran home for some rope and was able to lower it to the water and allowed the boys to escape their "water hole."
---
<![if !vml]>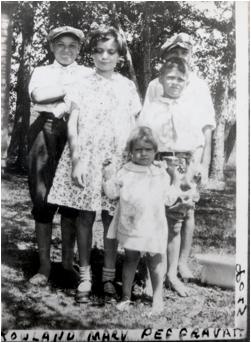 <![endif]>




<![if !vml]>

<![endif]><![if !mso]>

<![endif]>

Rowland, Mary, Peg, Gravatt, and John Hall, all the children of Charles and Margaret Hall

<![if !mso]>

<![endif]><![if !mso & !vml]> <![endif]><![if !vml]>

<![endif]>

Mary Playing Tarzan

Told by Mary (Hall) Hyde to Dan Hyde

With her brothers Rowland and Johnny, tomboy Mary was swinging from the top of a sapling to another as the former bent over. Once her dress got caught in the first tree when she jumped to the second tree and she was trapped! She needed one of the brothers to climb the first tree to bend it down to release her dress. (No slacks for girls in those days!)
---
The Sun Dress
Told by Mary (Hall) Hyde to Dan Hyde
Once her brothers Rowland and Johnny dared her to go swimming in the nude. She did and Johnny grabbed her clothes and ran into woods with them. Unfortunately, in the chase that followed, Johnny dropped and lost Mary's sundress with straps. Quite a predicament! Only clothes she had were a pair of panties. How to go home and face Mom?
Fortunately, Mary's Mom had made her two dresses just alike. While Mary hid in the bushes, Johnny went into the house and found the other dress. Several days later while combing the woods, they found the first dress. Mary was about seven. They told their Mom "after the fact."
---
Telling Ghost Stories
Story about Mildred Hyde
Told by Nancy (Hyde) Seyfried<![if !supportFootnotes]>[15]<![endif]>
When we were children, Aunt Mil would set up a couple of mattresses in a large weedy field out back of the old Albert Lewis house on Main Street in Ulysses and a bunch of us kids would have a sleep over. When it got really dark, Mil would tell us ghost stories.
The one I remember was one about a butcher, who didn't have any liver left when a rich customer ordered some, so he found an old drunk out in the ally. Aunt Mil would tell how the ghost of the drunk came to the butcher that night when he was upstairs in his house. She spoke softly "The ghost started to climb the stairs. He climbed the first step and said in a cold and wavering voice: 'Give me my liver back.' He climbed the second step and again the ghost spoke: 'Give me my liver back.'" And so on, we would all be scared to death before the ghost got to step six or seven, and beg Aunt Mil to stop. So I don't know if there was an ending.
---
<![if !vml]>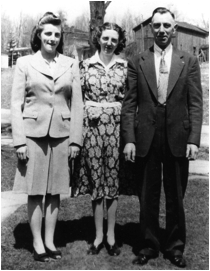 <![endif]>
Elaine (Hyde) Flewellyn, Mildred,<![if !supportFootnotes]>[16]<![endif]> and Lawrence Hyde
Great Tan
Story about Mildred Hyde
Told by Nancy (Hyde) Seyfried
Aunt Mil wore long cotton stockings to keep her little bird-like legs warm (See her legs in picture above.). One Christmas when we were all at the old Hyde house in Ulysses, she must of not been able to buy the light colored stockings she normally did and had on a much darker shade. Cousin Bud asked her, "When did you get back from Florida?" She, all flustered said "she hadn't gone to Florida or anywhere else for that matter, WHY?" Bud said, "I was just wondering where you got your great TAN!!"
---
The Deer Hunt
Story about Harold Hyde
Written by Dan "Skip" Hyde
My Dad, Harold Hyde – Don't call him Harry Hyde! – was an avid hunter. Harold was born and raised in Ulysses, a small backwater farming community in Potter County, Pennsylvania. In the northern part of central Pennsylvania, Potter County "The Boondocks" is far removed from anything remotely like a city. People here survived the Depression by planting gardens and hunting. Even today, sparsely populated Potter County has more white-tailed deer than people. Being raised in a hunting culture, Dad always anticipated the thrill of bagging a big buck.
One late November, the night before the start of buck season, Dad could be seen carefully planning for the big hunt. He packed his lunch, cleaned his rifle, counted his shells and arranged his red-checkered heavy woolen hunting pants and jacket on a chair. He wanted to get an early start.
At the sound of the 4 a.m. alarm, Dad jumped out of bed, scurried into his hunting clothes, grabbed his lunch out of the refrigerator and shouldered his gear. He drove to his favorite hunting spot and climbed up into his tree stand while it was still dark. He wanted to be in position before first light.
After several hours my Dad was sore from sitting and hadn't seen a thing. The excitement of the hunt was wearing thin. It had snowed an inch or so the night before and the temperature was below freezing. He was stiff, cold and hungry. Now, deer hunters like a fresh layer of snow. They call it "tracking snow" because it allows them to track the animals. Still, ten feet up in the tree stand, it was mighty cold with the wind howling.
To warm up, Dad thought of eating his lunch. "Why hadn't he brought a thermos filled with nice hot soup?" He decided not to eat his lunch because it would be just his luck that the noise of the rattling of his brown paper lunch bag would spook the large buck that he was sure was walking his way.
After several more hours, Dad lost his battle with his stomach and grabbed and opened the brown paper bag to only discover it contained nothing but fresh mushrooms. He had grabbed the wrong bag! Mushrooms may be tasty but they have little food value. A wheelbarrow of mushrooms will not fill an empty stomach. Famished and defeated, my Dad abandoned his tree stand and drove home to find his real lunch bag snickering in the refrigerator.
---
<![if !vml]>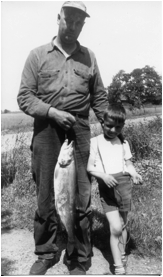 <![endif]>
Harold and "Skippy" Hyde when he was about age 6
Unplugged
Story about Harold Hyde
Written by Dan "Skip" Hyde
From 1944 to 1963, Harold Hyde worked at the LeRoy Machine Shop, east of LeRoy on New York State Route 5. He started as a machinist working on the floor and later became a foreman. Eventually because of his skills at problem solving, his good rapport with the men, as well as his familiarity with the machines, he was made Night Superintendant. Basically he was the number-two person in the company after the owner and ran the company at night. He was scheduled to start his shift at 4 p.m. and work until 1 a.m. in the morning. However, most nights he didn't get home until after 3 a.m.
One morning Harold's son Skip, age about 7, remembers his Dad arriving home at 7 a.m. as Skip was waiting for the school bus. His Dad was all chuckles and laughing about an incident at work. It seems his Dad had arrived home at the usual late 3 a.m. and gone directly to bed. At 5 a.m. Dad was awakened from a sound sleep by an "emergency" phone call that something was terribly wrong at the plant. Dad dressed and drove the three or so miles to the plant. The guys at the plant explained that a critical piece of expensive machinery was down and the engineers had spent several hours trying to fix it and had given up in failure. Dad listened carefully to their explanations of what they had tried and their frustrations at not knowing what to try next. Then Dad calmly walked behind the machine and noticed the machine's power plug was out of its socket. On a hunch, he plugged the cord in. Much to the engineers' surprise and embarrassment, the machine came purring to life! Someone had accidentally tripped over the cord and pulled the plug from the outlet. Skip can still hear his Dad laughing and saying, "Those highly paid engineers had spent hours working on that broken machine but had neglected to check the machine's power plug! So funny!" Dad, ever the practical problem solver, found this very amusing.
---
Bliss
<![if !vml]>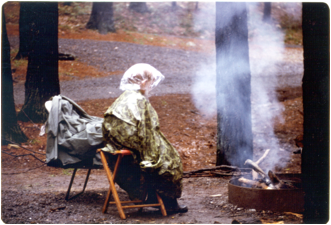 <![endif]>
Undaunted by the rain, Chris Hyde<![if !supportFootnotes]>[17]<![endif]> enjoys a quiet time by the smoldering campfire at R. B. Winter State Park.
---