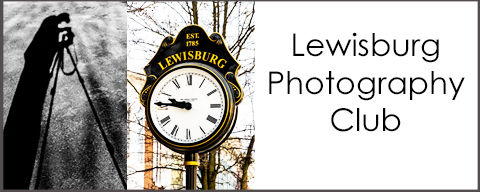 Lewisburg Photography Club
Home page for the Lewisburg Photography Club, a special interest group of the Lewisburg Arts Council.
Annoucements
We are initiating a new meeting feature starting March, 2018: Critique Forum. Members have the opportunity to submit up to five jpeg images to be critiqued by the group. Dan will select at least one image per person from the pool of submitted images. The photographer will have the opportunity to tell a brief story of each image they submitted including what they were trying to accomplish. The group will point out positive aspects of each image as well as ways the photo could be improved. The purpose of the Critique Forum is for us to learn from each other!

For January through October 2018, the Photo Club will be meeting in the large room at The Village Common building on Buffalo Valley Lutheran Village campus.

Directions to The Village Common: Here are directions for those who have never been to The Village Common building. Driving west on Route 192 from Lewisburg, turn left onto Reitz Blvd as if you are going to Public Library for Union County. On Reitz Blvd going south take the first right (Tressler Blvd). The Village Common building is set back from Reitz Blvd. Park in the parking lot in front of the building. Enter the center front doors and go straight into a large room set up like a dining room.
Next Meeting of Lewisburg Photography Club is Thursday April 26, 2018
Theme for this month's Photo Quest is "Black and White." Submit one or two black and white jpeg images to Dan Hyde by 5 pm Tuesday April 24, 2018. For future reference, there is no Photo Quest theme for May. We will have a Critique Forum instead during the second hour.

Our speaker will be Photo Club member Dan Hyde who will present a hands-on demo on how to use your point-and-shoot or DSLR digital camera to shoot video. So bring your camera and be prepared to have fun shooting video. Note: not all digitial cameras shoot video! If not sure, check your camera's manual.
---
The Lewisburg Celebration of the Arts is Friday April 27 to Saturday May 11, 2018
The 2018 Lewisburg Celebration of the Arts will soon be here. The annual Indoor Art Exhibit at the Packwood House Museum and the annual Photography Exhibit at the William D. Himmelreich Library will open on April 27, 2018. Link to the official information packet for the Photography Exhibit is below. The packet contains the Guidelines for entry to the exhibit, the cost and the dates to deliver and pick up your artwork as well as information about the reception and awards for the show. We hope all of you will enter. Please feel free to share the packet with other photographers you think may be interested in entering.
---
Handouts on Using Flickr
Handouts on Using Lightroom
Handouts for Critique Forums
Information on Past Meetings of Lewisburg Photo Club
---
Page maintained by Dan Hyde, hyde at bucknell.edu Last update February 23, 2018